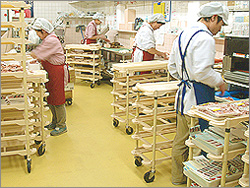 Keeping operations running smoothly in any store requires an organised, streamlined back room. All the decisive action in retail happens behind the counter, and all retailers need an integrated system that can deliver.
Our range of scales, wrappers, labellers, packing equipment and data management systems work in synergy, to help manage your stock flow, ensure the best-presented products make it to the shelf, reduce workers' stress and maintain a neat shop floor.
Explore our range of products below, or contact your local Ishida Japan office or agent to find out how we could create the ideal back room for your store.