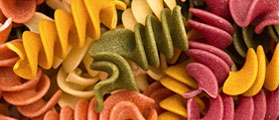 Ishida offers proven applications that can handle various sizes, shapes and characteristics of pasta, even at its most breakable.
The challenges posed by pasta products are wide-ranging, but we provide solutions that maintain high speeds for more delicate pasat forms, prevent sticking in fresh pasta lines even when sauces are applied, reduce noise levels during production at all stages and improve presentation in both primary and secondary packs.
To meet these challenges, we have developed specifications of our RV Series multihead weighers, which can be integrated with a twin bagmaker for efficient packing of dry pasta products. The technology of our X-ray inspection systems are also ideal for pasta lines, detecting foreign bodies even in overlapping products for impressive qualtity control.
See below our best-performing machinery for the pasta industry. To learn more about our specifications for pasta, please contact your local Ishida office.