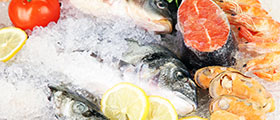 Fresh fillets to frozen shellfish, seafood salads to sushi, Ishida can help you weigh, sort, mix, pack and inspect your fish and seafood to the highest retail standards.
We have an intimate knowledge of the challenges in this sector, including packing speed for stickier products, time-to-market urgency, low-temperature working conditions, salt corrosion, product fragility and hygiene.
Smaller piece weights such as shrimp or mussels, with or without shells, can be rapidly combined into seafood mixtures with great accuracy thanks to our multihead weighers. Pre-mixed seafood salads with an oil component can be weighed quickly and accurately using our fresh food weighers. Ishida even tackles challenges on the shop floor, with our impressive line of scales and the newly-developed anisakis detector ensuring only the best quality fish goes home with your customer. You name your challenge; Ishida meets it.
See below our best-performing machinery in the fish and seafood sector, or contact your local Ishida office for more information on what we could do for you.