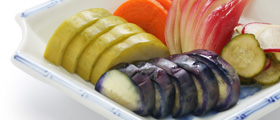 The pickles industry forms an esteemed, traditional part of Japan's cultural and economic history. Naturally, as proud investors in Japan's industrial reputation, Ishida has long provided optimal solutions for pickle businesses.
Pickles continue to be a popular commodity across the world, though varied in form and packaging from country to country. Our intimate knowledge of pickle processing and packing ensures corrosion from pickling is reduced to a minimum, all while correctly weighing, sorting and packing your product ready for sale.
Stainless steel models of our multihead weigher - including our stick weigher - are perfectly crafted to handle pickled products of various shapes and cuts, while our tray sealing and inspection systems can be specially adapted to your product's needs, no matter how tricky to handle.
See below our best-performing machinery for the pickles industry. For more information on our specifications, please contact your local Ishida office.